WWE Payback 2014 – I Quit!
Hello my friends and welcome to my review of The WWE's Payback! Tonight advertised main event's resemble our last PPV Extreme Rules card! Tonight John Cena takes on Bray Wyatt in a Last Man Standing Match while The Shield takes on Evolution in a No Holds Barred Elimination match! and of course we will hear the fate of the WWE World Heavyweight Championship! but first let's start with out Pre Show match!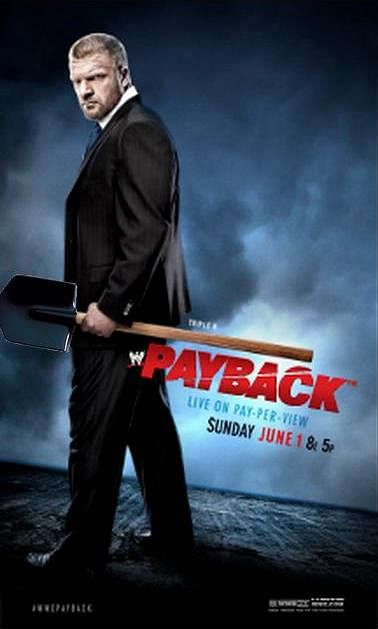 Payback Pre-Show
Mask vs. Hair Match
El Torito W/Los Matadores  vs. Hornswoggle W/3MB
Our Pre-show match starts off once again with the two small people of the WWE! Our last Pre-show was a WeeLC match between the two and tonight we will either see El Torito's mask taken off or Hornswoggle's hair cut off! Out first is El Torito with Los Luchadores accompanying him to the ring! He is coming out wearing a 2/3 shirt, representing Micheal Jordan who is well known for his time on The Chicago Bulls and since their in Chicago, it makes sense! Out next is Hornswoggle along with 3MB. Swoggle really selling his character tonight, gotta give the man credit, he certainly can act his part! In the begging parts of the match we actually got to see these two have an actual match with grapples and strikes and even Torito landing a impressive drop kick. Swoggle was using his fists as weapons in this match as he hit Torito with many strikes and tried to pull his mask of many times! It wasn't long before Luchadores and 3MB made their way into the match! We got to see a funny segment that started with Jinder Missing a flip onto the outside of the ring onto one of the Luchadores, and ending with Heath Slater being tossed into everybody after El Torito hit him with a Hurricarana! Back in the ring Torito looked to hit Hornswoggle with a Hurricarana, but Swoggle reversed into a beautiful power bomb. Torito managed to kick out at 2, and this match continues with Swoggle once again trying to pull of Torito's mask, but this time he manages to do it, unfortunately Torito was wearing another mask under and while Swoggle was celebrating, Torito hit Swoggle with a Springboard Moonsault and covered him for the three count!
Winner – El Torito
Rating -6\10: Tonight these two men proved that they can actually wrestle! They didn't need any weapons just some well placed comedy! They didn't overdue and they actually focused on a match that saw some impressive moves that I would of never expected thee two to pull off! Of course the stipulation to the match was Mask vs. Hair and since Hornswoggle lost, it's time to cut his hair! Swoggle refused at, believing he won the match, but eventually sat in the chair! What surprised me is 3MB didn't try to convince him to back out and actually told him he had to do it! and that's when Torito and The Matadores began to shave Hornswoggle's head using scissors, razors, shaving cream and electric razors. Hornswoggle did well in selling it as I honestly kind of felt bad for him!
Payback
WWE United States Championship.
Cesaro W/Paul Heyman vs. Sheamus (c)
Our opening match of the night is for the WWE United States Championship! These two have produced hard hitting brawls before, and I don't expect anything different here tonight! Out first is the United States Champion, to a mixed reaction from this Chicago crowd! We get a nice run back of their feud that shows how disrespectful Cesaro can be with just one Handshake! Out next is Paul Heyman who begins to introduce Cesaro, but is interrupted by C M Punk chants! Heyman beautifully handles it by stating Punk is not here, but at the Blacks Hawk's game, and says tonight their streak will be broken by the LA Kings (I think that's what he said) just like The Undertaker's streak was broken by his client, Brock Lesnar! Heyman than introduces Cesaro and the two make their way down to the ring! Once the introductions are all done the match gets under way, and right away Sheamus runs at Cesaro and begins to take him down with some hard hitting forearms! This entire match was just a back and forth hard hitting brawl, and I loved ever moment of it! Cesaro favored his uppercuts majority of the match, catching Sheamus off guard numerous times with the! Sheamus did dish out his own pain especially when he held Cesaro against the ropes and continued to slam his fist against the chest of Cesaro! Sheamus really took it to Cesaro in the mid portion of this match hitting him with many stiff strikes and reversing everything Cesaro threw at him! Cesaro did mange to gain control and was looking at hitting The Neutralizer, but Sheamus manged to reverse into a White Noise that almost picked him up the victory! Heyman played his part to perfection as he always does! Sheamus, despite how hard Cesaro fought, manged to look in The Cloverleaf, but Cesaro would not tap! The King of Swing lived up to his name at the end of the match, when nothing else worked Cesaro lifted The Celtic Warrior up and began to swing him around! I lost count of how Swings happened, but Heyman barked at Cesaro to hit Sheamus with The Neutralizer, but when Cesaro went to pick the champ up, Sheamus rolled him up into a small package to pick up the three count!
Winner & Still United States Champion – Sheamus
Rating – 8\10: What a match between these two. They proved to be on equal levels and showed that they both can take some serious pain! Cesaro sat through Battering strikes and knees to his shoulder blade, while Sheamus fought through Uppercut after Uppercut! The Celtic Warrior and The King of Swing have great chemistry in the ring together, and matches like this will do well in showing how important the United States Title is! The way the match ends, leads me to believe this rivalry is not over, and I'd be happy to see these two go at it again! Maybe with some hardcore stipulation added to it! After the match Sheamus smiled as we walked past Cesaro an Heyman, while Heyman held Cesaro back so this definitely leads me to believe these two are not done with each other!
Cody Rhodes & Goldust vs. Rybaxel (Ryback & Curtis Axel)
This match was announced in the pre-show. The Rhodes brothers haven't been winning to many matched as of late and Cody has been putting all the blame on his brother, but tonight before the match we saw Cody and Goldust backstage talking, where Cody admits he has been the problem and points out that this was where the Rhodes Brothers started and this is where the begin again! Out first is The Rhodes Brothers to their horrible theme song and right after them is Rybaxel! The match began between Goldust and Axel! Goldust took the early advantage of Axel, but it wasn't long until Goldust was on the receiving end of a beat down! Axel and Ryback took turns tagging each other in and beating down on Goldust! Goldust managed to hang in there, but just could not get anything going for himself, until he began to take it to Ryback and forced The Big Guy to tag in Axel, Curtis Axel cut of Goldust and tossed him back into their corner, but Goldust manged to fight out of the corner and make the tag to Cody Rhodes! Axel also tagged in Ryback and Rhodes began to take it to The Big Guy catching him off guard with many strikes and even hitting The Disaster Kick! He covered Ryback, but Axel was there to break up the pin and Goldust rushed in to take out Axel! but it wasn't long before Ryback got rid of Goldust! Rhodes looked at another opportunity to hit The Disaster Kick, but this time Ryback caught Cody on his shoulders and hit Shell Shock for the win!
Winners – Rybaxel
Rating – 7\10: Both these teams have been very impressive, but Ryback and Curtis Axel have been getting better and better! After coming up short in their tag title match at our last PPV, tonight they took on The Rhodes Brothers in what was a fantastic match that saw them dominate the majority of it and getting the chance to showcase how well they work together! This also could be the last time we see The Rhodes Brothers as a team, because after the match Cody grabbed a mic and told Goldust "Brother to Brother, you need a better tag team partner" placing all the blame on his self as he walked away! I'm not sure if this counts as a heel turn or what, but I'm interested to see what happens next!
Rusev W/Lana vs. Big E
The Ravishing Russian, Lana makes her way out and begins to cut another promo, talking about Russia and Vladimir Putin, and it wasn't long after that The Bulgarian Brute, Rusev makes his way to the ring waving The Russian Flag proud! As Rusev waves his flag in the ring, Big E's music interrupts him and The Former Intercontinental Champion makes his way to the ring waving The United State's Flag! Rusev and Big E have a short little competition before the match begins, seeing who can wave their flag faster, but once Big E got in the ring, the match began! Rusev ran at Big E, but E was able to dodge and take it to Rusev first! The two battle for a bit trading some hard strike, but Big E did mange to take Rusev down at one point! Rusev struggled to get back to his feet and when he did, it was on the apron! Big E built up enough speed and speared The Bulgarian Brute between the ropes and the two men hit the ground hard and earned a Holy Shit chant from the crowd! Lana had a shocked look on her face as the two made it back into the ring! Big E once again built some speed and looked to hit Rusev with a splash, but Rusev quickly got up and hit Big E with a Teeth Shattering Super Kick! Rusev begged Lana to let him lock in The Accolade and Lana gladly allowed as she screamed "Rusev Crush!" Rusev locked in The Accolade and forced Big E to tap out!
Winner – Rusev
Rating – 6\10: These two put on a fun short match tonight and managed to make it entertaining! Both men looked Strong as Big E became the first man to ever take it to Rusev! The match quickly turned into a battle of USA vs. Russia but its smart to use what is currently going on to help give Rusev some heat! My favorite part of this match was at the end when Rusev begged Lana to let him use The Accolade! It showed just how mad Big E got Rusev, but it also showed how much control Lana has over Rusev! These two are a very dangerous duo!
Kofi Kingston vs. Bo Dallas
This is another match that was announced on our Payback pre-show, but I will also like to note that before this match we saw Brie Bella and WWE World Heavyweight Champion, Daniel Bryan talking backstage! We will find out later tonight weather Bryan gives up his title or if Brie Bella is fired. Kingston makes his way down to the ring, and it's honestly a shame to see how far he has fallen down! He doesn't even have his pyro anymore! The announcer introduces Bo Dallas before he makes his way down to the ring! Once Bo is in the ring he cuts a promo about Bo-Leiving! He states that even though the Black Hawks are going to lose tonight, that it does not make the crowd losers! Kane's music interrupts him and The Big Red Monster makes his way down to the ring. Bo and Kofi stand their ground as Kane makes his way down, but it didn't take long for Bo to abandon Kofi! Kingston tried to take it to Kane, but The Big Red Monster, beat down and Kingston and ended it with a Tombstone Pile Driver! Kane left the ring and Bo got back in to check on Kofi and told Kofi he would be back on his feet soon and all he needs to do is Bo-Leive!
Winner – No Contest
Rating – N/A: There was no match, so that is why there is no rating! I was hoping to see a match here tonight, but I've got to say this was a well thought out segment! It continues to show Kane's dominance and lead to suspicion that Kane is doing Stephanie's bidding, but also adds heat to the new Bo Dallas character! Sadly for Kofi, he falls further down the pecking order!
WWE Intercontinental Championship.
Rob Van Dam vs. Bad News Barrett (c)
Up next the Intercontinental Championship is on the line! Out first is RVD, who comes out to a decent pop! We get to see how Van Dam earned this match when he won The Beat the Clock challenge when he pinned Alberto Del Rio! We also go to see Barrett attack Van Dam after that match! Once Van Dam's entrance is done, out comes the champion, Bad News Barrett! and it's not to long until Barrett grabs a mic and tells us all that he has some Bad News! Barrett tells anyone who was looking forward to RVD walking out the new IC Champ, is going to be disappointed! He states RVD will not get his Payback, and after this match he won't get a Pay Check! because he is going to take Old Yeller out back and end him! The match starts and Van Dam uses his speed to his advantage as he takes the early control of the match! Van Dam caught Barrett off guard many times with quick kicks and whole arsenal of moves! Van Dam even tossed the champ into the crowd to set of for his spinning leg drop off the apron onto Barrett who was hanging over the barricade! Back in the ring, Van Dam set Barrett up for Rolling Thunder, but Barrett quickly got up but Van Dam quickly sent him back down with a super kick and than continued on to hit Rolling Thunder! Barrett laid in the middle of the ring and Van Dam lept into the air to hit the Five Star Frog Splash, but Barrett rolled out of the way and began to set up for The Bull Hammer Elbow, Van Dam ducked in a rolled Barrett up with a Scissors pin, but Barrett kicks out a 2 and he sends Van Dam out of the ring! Barrett followed him to the outside and attempted to hit The Bull Hammer Elbow again, but Van Dam ducked and Barrett's elbow went right into the steel post! Barrett rolled back into the ring holding his elbow in pain, Van Dam soon followed and looked for a Split Legged Moonsault on Barrett, but the champ got his knees up! Barrett began signaling for the Bull Hammer again! Van Dam slowly got back to his feet, and got hit with The Bull Hammer Elbow! Wade Barrett covered for the three!
Winner & Still Intercontinental Champion – Bad News Barrett
Rating – 7\10: Van Dam certainly isn't as agile as he used to be, and you can tell his age is beginning to catch up to him, but he still manages to put on a decent performance! These two put on a hard fought battle here tonight, that showed how important the IC title is becoming! Both Barrett and Sheamus are doing wonders for the mid card title, and as long as the challengers keep putting up such impressive match, both the US and IC title will be restored to their glory!
Daniel Bryan's Decision
Stephanie McMahon makes her way down to the ring and doesn't waste anytime and quickly goes over why she is out there and ask Bryan to come! The World Champion's music plays and Daniel Bryan and his wife Brie Bella or is it Brie Bryan now? Either way the couple makes their way down to the ring. Stephanie gives Bryan to choice to choose his belt or his wives job, and Bryan goes on to allow Steph a choice and points out how the fans don't really like her, but tonight she can change that if she makes the right choice! Steph is showing no interest as the crowd begins to chant for C M Punk! Steph is quick to respond to the crowd by stating that they want Bryan to quit just like C M Punk did! Steph continues to ask for Bryan's response and The Champ begins to call Steph a bunch of names until Brie cuts in a calls her a Bitch! Steph and Brie exchange words and McMahon reminds Brie that she is her boss! Brie tells Bryan he knows what to do, and as it looks like Bryan is about t hand over the titles, Brie gets in front and does not allow him to do it! She tells Steph she can't fire her, because she quits! Stephanie begins to laugh until Brie slaps her across the face! Steph ends up the leaving the ring embarrassed while Brie and Bryan celebrate! I for one feel it is a mistake to keep the belt on Bryan! Call me old school but whenever any champ was injured and it was well known they were not able to defend the title at the next PPV, they were striped of the title! Bryan could still be stripped since apparently there is still no time table on how long he will be out! I do have a hard time believing that, but from what I've heard its almost guaranteed Bryan won't be able to defend it at our next PPV witch is Money in the Bank! I guess Brie is out of a job now as well! I'm interested to see where this go, but I still feel it's a mistake to allow Bryan to continue to hold onto the title, even though he is injured!
Last Man Standing Match.
Bray Wyatt vs. John Cena
Up next is one of our main events of the night! John Cena and Bray Wyatt have the third and what many people believe to be their last match in their rivalry tonight! Some how Bray Wyatt has managed to look strong in this rivalry despite looking very weak to John Cena in their last encounters! but it's not going to be easy to get John Cena to stay down! Out first is the Bray and his Family! While Bray awaited the entrance of Cena you enjoyed the cheers of his followers witch was the majority of the crowd! Cena quickly makes his way to the ring and is ready to start this match as is Wyatt! Harper and Rowan got onto the apron as well and it looks like this is going to be a three on one match but the music of the Tag Champs plays and here comes Jimmy and Jey, The Usos to provide back up for John Cena! Now that the numbers are even Cena and Bray start the battle on it was all Wyatt in the early going! Wyatt dominated Cena with many of his trademark moves, but he could not get Cena to stay down for a ten count! Cena did manage to get back into the match and it was around this time the Wyatt's jumped in but The Usos jumped in to help and a brawl ensued that did not end until The Usos and Harper and Rowan went into the back! During all the distraction Wyatt managed to gain the upper hand by grabbing a chair and using it against Cena! Cena was able to get the chair away from Wyatt and use it against him! Cena also used the Steel Steps as his weapon and at one point picked them up and tossed them over the ropes to the outside of the ring and he hit Wyatt perfectly! Cena continued to control the match until both Harper and Rowan raced back down to the ring to aid Bray! The two began to set up tables but The Usos are back out and managed to take down Rowan but Harper took both out and continued to set up the table while he and Cena brawled! One of The Usos got back to his feet and ran right at Eric Rowan who was sitting in front of a table! The Usos put himself and Rowan through the table while Harper suplexed himself and the other Uso through the other set of tables he set up! Now that all four men are down the action focused back onto Cena and Bray who were battling on the outside of the ring! It wasn't to long until Bray caught Cena off guard and speared Cena through the time keepers area! After both men answered to count before ten, Wyatt began to beat down on Cena through the arena until they arrived at the Pyrotechnicians area! They set off a loud boom some how and Bray seemed to have an idea! Cena countered it before he could and lifted him up on his shoulder and sent him crashing through a wooden box with an Attitude Adjustment! Cena slammed another big contained on top of the wooden box Wyatt laid in and stood on top as the referee counted to ten!
Winner – John Cena
Rating – 8\10: This has to be the best match these two have had by far! Bray looked strong and even made it seem like he could win at times! Cena may have won here tonight, but not without sacrifice! Cena put his body on the line and took many moves from Bray such as Sister Abigail and many weapons! If it wasn't for The Usos, Cena may not have even won, and he acknowledged that as he made his way back down to the ring  and helped The Tag Champs to the back! I would of preferred to see Bray walk away a the victor, but he really isn't a loser tonight as well! He put on one hell of a match and if this is the end of their rivalry, I'll be interested to see where they go next, but if there is one more match left in these guys, Bray needs to win and that has to be the end!
WWE Divas Championship.
Alicia Fox vs. Paige (c)
I honestly forgot about the Divas Championship, but out first is Alicia Fox, who as of late has been kind of crazy! She has been seeking attention and she certainly got it and even earned a Divas Championship! Out next is the Divas Champion, Paige! and it doesn't take long for this match to get under way! Fox dominated the early portions of the match hitting Paige with numerous Tilt a'Whirl Back Breakers, but not matter how many times Alicia hurt the champ, Paige would not stay down! Paige fought back into the match and manged to lock in The Scorpion Crosslock to force Alicia Fox to tap out to retain the title!
Winner & Still Divas Champion – Paige
Rating 5\10 – I know my review of the match was short, but I'll be honest I really don't remember much of the match! Alicia Fox did dominate the majority of the match by taking it to Paige on the outside of the ring and as I mentioned in the review hit many of those back breakers! I don't really remember how Paige fought back, I just remember her locking in the cross lock to win! I still don't feel its a smart idea to make Paige look so weak through out the match and I will never understand why WWE allows the divas down in NXT to put on 5 start matches but not the main roster Divas!
No Holds Barred 6 Man Elimination Match!
Evolution (Batista, Randy Orton & Triple H) vs. The Shield (Dean Ambrose, Seth Rollins & Roman Reigns)
It is now time for our main event! Over the past couple of weeks The Shield of gained the upper hand over Evolution up until this past Raw when Evolution left The Shield laying in the ring unconscious! Evolution makes their way to the ring first and it wasn't long before The Hounds of Justice made their way to the ring! It did not take long for the battle to start as all six superstars began to brawl! We saw Ambrose battle Orton, Reigns battle Batista and Rollins battle The Game! After awhile of the superstars brawling we went back into a traditional tag match that saw The Shield  dominate the early goings, but it wasn't long before Evolution took over and kept Ambrose away from his team members. Ambrose hit The Game and managed to get away from him and tag in Reigns while Triple H tagged in Batista! It was here things started to break down and all three members battled! Reigns and Batista stayed ringside while Ambrose and Orton battled into the crowd ad did Rollins and Triple H! The Game and Rollins battled over to the tech area where Rollins looked to dive onto The Game, but Triple H swung this metal piece and connected with Rollins! Back ringside Reigns began to take apart the Spanish Announce table, but Orton came back and began to beat down on Reigns! It wasn't long until Triple H made his way back to, and all three members began to beat down on Roman Reigns until the Triple Powerbombed him through the table! The Ref"s raced down to check on Reigns while Ambrose jumped into the battle and tried to take on Evolution, but the numbers game proved to be to much, same goes for Rollins when he jumped back into the action! Evolution beat down both members of The Shield on the entrance way! Triple H pointed out the Reigns was back in the ring and Evolution proceeded to beat down on Reigns. Using a steel chair and beating down on his back with canes! Evolution brought Reigns up to the entrance way, but Ambrose got back up and tried to take on The trio but it wasn't long until Randy Orton hit a DDT on Ambrose on the concrete! Evolution turned their attention to Reigns again, but Seth Rollins jumped of the Titantron  and landed on all three members! Rollins crawled his way back to the ring and Batista soon followed! The Animal began to beat down on Rollins and looked to hit the Batista Bomb on Rollins, but Seth managed to get out of it and Reigns rushed in and hit Batista with The Spear! Rollins covers Batista for the three
Seth Rollins eliminates Batista!
Orton hit Rollins with the RKO and looked to pin Rollins but Reigns was there to break it up! Orton turned his attention to Reigns and looked to hit Roman with the Hangman's DDT, but Ambrose smashed a chair into Orton's back! He tan laid the chair down and hit Dirty Deeds on Orton and covered him for the three!
Dean Ambrose eliminates Randy Orton!
Triple H got back in the ring and looked to hit Ambrose with The Pedigree but Reigns jumps up and lands The Superman Punch on The Game! Batista races in a spears Reigns, ignoring the fact that he has been eliminated! Both men are down and Orton takes this time to slide a Sledgehammer into Triple H! The Game used it to take out Ambrose and looked to hit Reigns with it, but Rollins flies in from the side and connects his knee to the side of the skull of Triple H and Roman Reigns follows up with a spear to Triple H to pick up the win.
Winners – The Shield
Rating – 9/10: Once again The Shield stands tall over Evolution tonight! These 6 men went out there again and put on another Match of the Year nomination! While at some points it got a little boring just watch Evolution dominate one member of The Shield, but it added to the match! It really gave you the feeling that maybe The Shield did get lucky in their last match! but Rollins proves tonight that he is the glue that holds The Shield together! When things were looking bad Rollins turned it around with that huge flip! and one by one Evolution got picked off! I do appreciate how all three members picked up a pin fall over one of the opponents! The only question I have now, is what is next for The Shield? I believe that they are finished with Evolution, and I don't know where they go from here! Maybe the dream feud between The Shield and The Wyatts can truly happen now! I know we have seen the two teams face off before, but we have never really had an actual feud for between these two teams!
Superstar of the Night – Seth Rollins
It was hard figuring out who the superstar of the night was tonight! Everyone was so impressive in their match tonight! but in my opinion, Rollins is the reason The Shield won tonight! Evolution looked to have the match in their hands before Seth Rollins dove from the top of the titantron onto Evolution! It was than the match changed places! Rollins manged to eliminate the first superstar of the night a trend his tag team partners would soon follow! I don't know what is going to happen to The Shield next, but I do know there is something planned for them next! Their to big to ignore now, and with Daniel Bryan still gone, no one can rival The Shield's popularity!
If you have any suggestions for films/TV/Games/Music for me to review, drop me a comment! Remember: Like Media In Review @ https://www.facebook.com/MediaInReview?ref=hl Follow Media in Review @ https://twitter.com/Media_In_Review.
Feel free to check out my YouTube channel where I do Let's Plays!-http://www.youtube.com/user/OmgWtfLolFtwBrb