WWE NXT |7-17-14|"I'm looking to Embarrass him!"
Hello my friends and welcome to my review of this weeks edition of NXT! Tonight's advertised Main Event is a revenge match between Tyson Kidd and Sami Zayn!
Enzo Amore & Colin Cassady vs. The Vaudevillians (Aiden English & Simon Gotch)
Amore's music starts off the show as both Enzo and Colin Cassady make their way to the ring for some tag team action. It was brought up by the commentators that Enzo and Colin have not teamed with each other for over 8 months, because of Enzo's leg injury at the time. Out next are their opponents Aiden English and Simon Gotch, The Vaudevillians! The have a new entrance this week, where a man comes out in their entrance video and introduces them. Once he calls their name the spotlight shines on that certain superstar revealing them from the dark. It honestly was really cool and something I suggest you look up yourself, because I probably did a terrible job of explaining it! Enzo Amore and Aiden English start off the match. The two were honestly back and forth, Aiden kept Enzo tried to keep Enzo under control with submission holds and basic slams, but Enzo is a, bit of a loose cannon, and when he begins to shoot there is no stopping him! The two went back and forth with strikes, English eventually lands one that sends Amore back into his corner and Colin Cassady makes the tag! Big Cass makes his way in the ring, and the commentators are quick to bring up the past between Aiden and Cass! Colin went right after Aiden with some heavy strikes, but as he lifted Aiden over his head, English managed to fall out and make the tag to Simon Gotch. Gotch ran at Big Cass full force, but Colin got his knee up and The Strong Man ran right into his knee! Colin Cassady continued to control Simon, until The Legionaries music hit and Sylvester Lefort and Marcus Louise make their way out. Simon Gotch rolls Colin up from behind off the distraction and grabs a handful of tight to grantee him the victory!
Winners – The Vaudevillians
Grade – B, This match could have been great. Out of all the tag teams, the two teams that are closest to The Ascension level are The Vaudevillians and The team of Enzo Amore & Colin Cassady! But it looks like we are going to have to wait for a real showdown between these two teams, and from what little we saw, it's promising! Watching Enzo and Aiden going back and forth was entertaining, but the big pop of the match was when Simon Gotch came in and we got to see him and Big Cass battle for the first time. Cass kind of dominated him, and if it weren't for the distraction maybe we could of seen Gotch make a comeback, but instead The Vaudevillians have no shame in cheating to win. It seems NXT wants us focusing on these three teams, and what I think would be cool is if we got to see all three of these teams fight over the right to challenge The Ascension for their Tag Team Titles!
The Ascension Video Promo
Immediately after the Tag match, a video promo of The NXT Tag Team Champions is shown. Konner briefly talks, but Viktor does majority of the talking. The two talk about how a lot of teams want the NXT Tag Team Champions, but no matter how good you are if you set your eye on their titles you will fail. Viktor ended the promo by stating "If You think you're the Hunter than your mistaken, because when you face The Ascension, you are only The Hunted."
The Demise of The Beautiful Fierce Females
We are shown a video that was titles by the commentators "The Demise of The BFF's" The video started off by showing Charlotte's win over Natalya that earned her, her first NXT Womens Championship! The video quickly turns to showing Summer Rae's return and how it all went south from there. The video ended with Summer winning the Number One Contendership to Charlotte's NXT Womens Championship and how it will be "The Summer of Summer" when she wins. Once the video ends it is announce next week on NXT Charlotte will defend her NXT Womens Championship against Summer Rae!
CJ Parker vs. Xavier Woods
CJ Parker makes his way to the ring first, and I'll be the first one to admit that he has some catch theme music! Out next is WWE Main Roster superstar, Xavier Woods! These two have had a bit of a mini feud as of late. CJ basically wants Xavier's spot and says if he was in his position that he would be doing a lot more than Xavier is! Woods took offense to that, and despite Parker's apology last week Woods poked fun at CJ which resulted in Parker attacking him from behind! Woods overpowered CJ early on and maintained that control with high offensive attacks like the drop kicks and Leg Drops! Xavier dominated over Parker for a long time, turning Parker's chest red with some nasty chops, but CJ managed to get back into the match as he sent Xavier face first into the bottom rope! Parker followed up with some stiff stomps and kept Woods grounded with a headlock. Xavier fought out of it and got himself back in the match and landed an impressive Over the Rope Spinning DDT! Woods covered CJ for the win, but Parker kicked out at two. Xavier surprised by the kick out, immediately went to the top rope and went for a Diving Cross Body but missed. CJ Parker lined Xavier up for his kick, but Xavier ducked and bounced Parker off the rope and went to roll him up for a pin, but CJ Parker turned the pin into his favor to win the match.
Winner – CJ Parker
Grade – C, Pretty much just a basic match here tonight. I don't know if it's CJ or not, but I feel he has sparks of greatness, but he flames out after a while. Tonight just wasn't really their night, the ending where CJ pinned Xavier looked like he messed it up. I think he was supposed to be holding onto the ropes to make it look like a cheap victory but he didn't. I have a feeling these two aren't done with each other yet, but hopefully their future bouts will be better than this!
Backstage Interview W/Sami Zayn
Devin Taylor is backstage with Sami Zayn! She asks Zayn about his feelings towards his match against Tyson Kidd later tonight. Zayn spoke about how he feels ever since Kidd as shown up in NXT we have slowly seen the real Tyson Kidd. He went on to call Tyson many un-kind things and even stated Tyson is living in the shadow of his wife. He ends the interview by saying if you would have said he was fighting Kidd two months ago, he would have been excited, but tonight he is just looking to embarrass him!
Alexa Bliss vs. Sasha Banks
Alexa makes her way to the ring first, and during her entrance a video was played of a promo she cut before the match. Bliss talked about her previous victory over Sasha and how Banks underestimated her because of how Nice She is and Her Size! She even spoke how Banks former BFF's where there. Banks makes her way down to the ring, and the match is on the way. Alexa Bliss starts off the match with quick pin falls, but each only for two. Banks, obviously annoyed by Bliss, lands a stiff dropkick after she kicks out of the second pin begins to dominate Alexa. Hitting many stiff strikes and even hitting her signature move! She hangs Bliss in the middle of the turnbuckles and then jams her knees right in Alexa's gut! The Boss covers Alexa, but Bliss kicks out at two. Sasha continues to control Alexa, but Bliss did manage to fight back into it! Alexa using her speed to her advantage began to counter Sasha, and made her way to the top rope before she did and impressive flip over Banks! Sasha is not impresses though and it wasn't long until she landed a Backbreaker and followed up with a Chin-Lock submission hold to force Alexa Bliss to tap out.
Winner – Sasha Banks
Grade – B-, Not a bad match between the two tonight, but we got to see The Boss dominate more tonight! It must be nice for Sasha to no longer have the distraction of The BFF's at her side as she avenges her loss tonight. Alexa Bliss shows promise as we get to see more of her in ring skill. She still seems incredibly green to me, but she is improving each and every week. I don't think it will be too long be Sasha Banks throws her name in the bucket of challenger for The  NXT Womens Championship!
Backstage Interview W/Tyler Breeze
Devin Taylor is backstage with Tyler Breeze and she asks him when he is going to challenge Adrian Neville for his NXT Championship. Breeze goes on to talk about greatness takes time! And once again states he suffered a Modeling Injury when he broke he broke his finger. He did say he had his agent working on the contract now! But of course it doesn't take hours to get a contract done! Tyler than showed us his Music Video once again!
Backstage Interview W/Tyson Kidd
Before the interview, we are shown of video from last week. A reported walked tried to catch up with Natalya after the show and ask her what her reaction is to Tyson Kidd, but Natalya simply responded with a "I don't want to talk about it."  Devin Taylor is backstage with Tyson Kidd. She asks him about Natalya, and Kidd respond by asking her why she is wasting his time. He states when she interviewed Sami she didn't ask him about his family! He then says what she should be asking him about is his victory over Sami Zayn, and as for his wife, she is a former WWE Divas Champion, she can take a bump and she understands accidents happen in the ring, but tonight when he beats Sami in the ring that won't be an accident!
Adam Rose vs. Jason Jordan
Adam Rose and The Exotic Express make their return to NXT tonight and apparently Jason Jordan's Tag Team Partner, Tye Dillinger was last seen with The Exotic Express and now he is injured, and Jason Jordan is going to get to the bottom of it! The match started off with Rose pulling off his usual antics, running his fingers down Jordan's chest and jumping in his arms before pulling him down into a headlock! Rose kept control over Jordan through the begging but it was not long before Jordan fought back in this match landing a huge elbow on a unaccepting Rose. Jordan followed up with a great dropkicks and a very impressive suplex into a pin of only two. Jordan maintained control over Rose keeping him grounded with a headlock, but Rose fought back into the match and managed to get Jordan into the turnbuckle and hit his signature Cho Cho! Jordan stumbled to his feet right into Rose's Party Foul. Adam Rose covers Jason Jordan for the win!
Winner – Adam Rose
Grade- C, Adam Rose makes his return to NXT to much fanfare! These two put on a basic match here with few things to boast about! I'm not sure if this whole Tye Dillinger thing is a storyline or not, but if it is that's sucks for another upcoming team in the blooming NXT Tag Team Division. Adam Rose remains to be undefeated in the WWE/NXT!
Backstage Interview W/Kalisto
Devin Taylor is backstage with Kalisto. She talks about how he has already challenged for the NXT Tag Team Championship and almost defeated The Number One Contender for the NXT Championship, Tyler Breeze. Kalisto tells Devin he would rather talk about his future victories and not his past losses before he is interrupted by The Vaudevillians. Kalisto asks them what they are doing here and Aiden proceeds to hold up a sign reading "Where's Your Partner?" Kalisto states that He and El Local parted ways, but proceed to tell The Vaudevillians that he can find a new and one and beat them, before asking If their speechless and then leaving!
Tyson Kidd vs. Sami Zayn
Both Tyson Kidd and Sami Zayn make their entrances and the match is quickly under way. Tyson dodged Sami early on using the rules to his advantage forcing the ref to pull Zayn off him during collision in the turnbuckle and against the ropes, the match finally gets under way when Sami finally gets his hands on Tyson landing clothesline after clothesline and following with an impressive Back Body Drop. Tyson Kidd uses the turnbuckle to pull himself up and Sami Zayn ran full force a Kidd looking for the Helluva Kick, but Tyson Kidd rolls out of the ring before Zayn could hit it. Sami rolls out after Kidd, but Tyson is up on the apron and runs at Sami landing a stiff kick to his chin and follows up with a suplex on the steel ramp on the outside of the ring before the commercial break. Once were back from the break we see Tyson Kidd cover Sami Zayn for a one count and then continue to keep control over Sami Zayn. Sami tries to fight back and the two superstars find themselves in the turnbuckle and Kidd begins to beat down on Zayn in the Turnbuckle before lifting him up and tying Zayn to the Tree of Woe! Tyson runs over to the other side of the ring and begins to measure Zayn up as the crowd sings The Chicken Dance at Kidd! Tyson does not let it bother him as he runs as Zayn full force and lands a harsh dropkick to Sami's face. Tyson keeps control over Zayn grounding him with a headlock, but Zayn manages to get out of it and begins to brawl with Tyson and bounce of the ropes to land an impressive dropkick onto Tyson. Kidd rolls out of the ring, but Sami Zayn is one step ahead of Kidd as he uses the ropes to hit a Springboard Moonsault onto Tyson on the outside of the ring. Tyson rolls himself back into the ring and Sami rushes to the tope rope to land a cross body onto an unsuspecting Kidd! Zayn forces Kidd up and locks hands with him before slapping the chest of Kidd. Sami than went to run off the ropes, but Tyson counters into a drop toe hold, sending Sami face first into the bottom turnbuckle. Sami lays his head out side of the ring, a choice he would soon regret as Tyson Kidd lands a over the rope leg drop onto him, and then keeps control over Zayn. Sami has a brief moment when he and Kidd continued to counter each other, as the two attempted to German Suplex each other, but once again it was Tyson Kidd he win the debacle and lands a German Suplex onto Sami Zayn. Tyson climbs to the top rope and Sami tries to battle him but Kidd just kicks him away and leaps for an Elbow Drop, but he lands right onto Zayn's Knees! Sami begins to take control and lands Blue Thunder Bomb that gets him only a two count! Tyson rolls on to the outside apron, Sami runs at him but Kidd catches him off guard with a stiff kick! Sami is on wobbly legs as Tyson runs to the top rope and lands a Blockbuster on Sami, but only for a two count. The two have a weird exchange but Tyson ends up locking in the Sharpshooter! Sami struggles to get to the ropes, and when he does Tyson just pulls him way. Sami did end up making it to the ropes refusing to tap out to Kidd! Tyson once again goes to the top rope and dives at Sami, but Zayn catches him in the air and takes him down to the mat where he locks in The Koji Clutch to force Tyson Kidd to tap out!
Winner – Sami Zayn
Grade – A, Sami Zayn and Tyson Kidd continue to put on great matches together. These two have great chemistry together and make perfect rivals. Zayn has always been a fan favorite on NXT and I feel he always will be! Tyson has pulled off his new heel role perfectly, and suffers a tough loss here tonight. It'll be interesting to see how Tyson responds to this!
Superstars of the Night – The Vaudevillians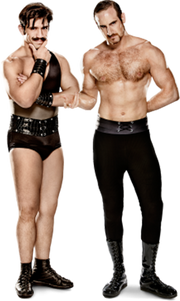 Tonight marks the first time we have two superstars of the night! The Vaudevillians have quickly become a top team in NXT and it would appear they are heading down the road to challenge for the NXT Tag Team Championships! Sami Zayn may of had a great match against Tyson Kidd tonight, and he finally got his revenge, but Aiden English and Simon Gotch managed to catch my attention during each of their segments. They opened up the show against Enzo Amore and Colin Cassady and what was a very exciting match up, that sadly ended early due to the distraction of The Legionaries, but it makes me hope foe a three way team match for the #1 Contendership to the Tag belts! Also their segment with Kalisto was a lot better than it should of been. Both Simon Gotch and Aiden English are excelling in their new role as a team, and are the only real challenge right now to The Ascension's Tag Team Titles Reign.
If you have any suggestions for films/TV/Games/Music for me to review, drop me a comment! Remember: Like Media In Review @ https://www.facebook.com/MediaInReview?ref=hl Follow Media in Review @ https://twitter.com/Media_In_Review.
Feel free to check out my YouTube channel where I do Let's Plays!-http://www.youtube.com/user/OmgWtfLolFtwBrb