WWE NXT |6-26-14| The Certified G! Returns to NXT!
Hello my friends and welcome to my review of this weeks edition of NXT! Tonight our advertised match may be considered a dream match to some! As our NXT World Champion, Adrian Neville takes on WWE Legend, The Whole F'N Show! Rob Van Dam!
The Vaudevillians (Aiden English & Simon Gotch) vs. T-Perkins & Matt Sugarman.
I'm going to be trying something different here tonight, and instead of explaining everything that happened in the match in detail, I'm instead going to highlight the Highs and the Lows of the match. Last week we got our first look at The Vaudevillians as a team, and I'm super excited because we need more tag teams! They have an interesting look and it seems the fans our into! there opponents are already in the ring and thanks to the lovely Renee Young we find out their names our T-Perkins and Matt Sugarman. Sugarman, who started off the match with English is a very tall young man with a muscular build. He took the early control over Aiden and tagged in his partner T-Perkins. This was the last we saw of Sugarman in the match as Aiden and Simon began to take control over Perkins with some great team maneuvers, such as when Aiden rammed his shoulder into Perkins gut to drive him back into their turnbuckle, while Gotch backed up on the outside apron to build up some speed before hitting Perkins with a running clothesline! T-Perkins did fight back a little but it was only a matter of time before Gotch gained control. He locked in a head scissors on Perkins and than forced him to sit up with the head scissors still locked in and began to do some push ups. I don't know if I mentioned this last week, but Simon Gotch's gimmick is a circus strong man. Gotch eventually picked Perkins up onto his shoulder after a little fight from him , and tagged English back in! The team than hit the signature move as Gotch his a Regal Roll (That's all I know it as) onto Perkins and Aiden leaped off the top rope and hit a senton flip! The move is called "That's A Wrap." and it earned them the victory tonight!
Winners – The Vaudevillians
Grade – B, This one only The Vaudevillians second match as a team, so don't expect them to face some real challenges yet, but for a fun short match they did succeed. They are an entertaining duo and seem to work really well as a team! There not at the level to face The Ascension yet, but with young teams such as Jason Jordan & Tye Dillinger looking to rise up as well, I expect they will cross past The Vaudevillians, and that could be great!
Sami Zayn Backstage Exclusive.
We are shown a video of the events that happened last week after Tyson Kidd and Sami Zayn teamed up to challenge The Ascension for their NXT Tag Team Championships! Kidd & Zayn lost because Tyson abandoned the match. We are then shown a backstage exclusive from last week after NXT went off air. Sami Zayn spoke about how he did say "You need to lose first, before you can learn to win." He also stated that does not mean I like to lose especially when it's because of a partner. He ended the video by stating "This is not the last you'll hear about me and Tyson," hinting at a potential feud between the two in the future! A feud I'm sure we can all get excited about!
Xavier Woods vs. Bull Dempsey
Xavier makes his way to the ring first out to some really great new theme music! One notable thing to mention that happened during Woods's entrance, NXT's resident hippie, CJ Parker once again walked around with a recycled sign reading "Everyday is Earth Day" and I did not catch what the other side said. Woods and Parker had a few words, before his opponent's theme music played. "BULL BULL BULL" played over the loudspeaker and Bull Dempsey makes his NXT debut? Dempsey who has been used in the past on a jobber is know of all a sudden getting used? I feel bad for Xavier Woods! Woods showed a little disrespect before they locked up as he swung his hair forward and splashing Dempsey with the water? in it. but as the locked up Dempsey showed off his strength by forcing Woods into the turnbuckle, and it didn't stop there as he continued to wear Woods down with numerous headlocks for long periods of times. When Dempsey felt like striking though it looked rough. At one point in the match Bull hit Woods with an impressive headbutt and followed up with some stiff elbows. Woods had moments were it looked like he would come back, but Bull shut him down every time. I'm not sure how the crowd feels about since they did chant "BULL, BULL, BULL" as he measured Woods up before running at him and hitting him with a splash in the turnbuckle, but than at another point they poked fun at Dempsey chanting "Put Some Pants On!" Woods tried to battle back and began to get back into hitting Dempsey with some impressive kicks but once he leaped from the top rope it was over as Woods landed on a knife edge chop from Bull! Bull ended the match after hitting a suplex he calls The Bulldozer! After the match ended, Bull grabbed a mic and addressed the NXT Universe! Bull talks about how they have just witnessed the last of a dying breed, and how NXT how let the kids run this place for to long and now its time for the adults to come in. He stated this industry used to be run by men and tonight marks the beginning of a new era of devastation and the start of Bull Dempsey!
Winner – Bull Dempsey
Grade – B, Xavier Woods has fallen far down the totem pole! Bull Dempsey has officially stepped out of the jobber zone and has made his impact on NXT. Alex Riley stated that he was The Last of a Dying Breed! Bull impressed me here tonight, most of the match felt like it was held in a headlock, but the moments when he pulled out different moves he shown! The headbutt was incredible! and he managed to get the crowd behind him in his "debut" match. His after match promo was  better than I expected, he stated who he was and practically told us what every other big wrestlers have told us!It's to early to judge Bull's character, but from his in ring work it's a lot better than I expected
Summer Rae W/ Sasha Banks & Charlotte (c) vs. Becky Lynch
Summer Rae returns to NXT and it seems The BFF's have made up as both Sasha Banks and The NXT Womens Champion, Charlotte accompany Summer. Summer's opponent is the debuting Becky Lynch, he seems to have some sort of Irish Rocker Gimmick? She's got some sort Irish thing going on for her, if she ever make it to the main roster, there's always potential for a story line with fellow Irish men, Sheamus! A little of topic, back to the match! Becky was doing some sort of dance, (I assume Irish) while making this annoying sound, I'm also assuming it was a  song. Summer decided she wanted to show off her dance moves and we had a dance show down for a bit until Summer got irritated and kicked Becky in the gut. The two began to trade blows and counter each others moves. Becky fired with some quick high flying maneuvers catching Rae off guard many times, but Summer fired back with some stiff strikes and of course using her long legs to her advantage. The focus turned to Sasha and Charlotte on the outside as it seems the two were competing to see who the crowd liked more. Summer confronted her team mates stating "This is my match" Lynch would not wait for Summer as she rolled her up from behind and covered her for a two. Summer begged her team mates for help, but they laughed it off as Becky began to control the match eventually ending Summer with an impressive suplex!
Winner – Becky Lynch
Grade – B+, Tonight seems to be the night for debuts! The Vaudevillians who is still a new team, the "debut" of Bull Dempsey and now the newest addition to the NXT Womens Roster, Becky Lynch. I stated in the beginning of that review that it seemed The BFF's have made up, but apparently both Banks and Charlotte were bored and decided to compete with the NXT Crowd over who is more popular than watch and cheer Rae on. Becky scores a huge victory here tonight over a WWE Diva and one of the stars of E!'s hit series Total Divas. The crowd was in love with Becky Lynch tonight and if that continues, Charlotte may have a challenger fr her title!
Colin Cassady vs. Sawyer Fulton
Colin came out to a great crowd reaction, that beginning to become a recurring thing Big Cass! His opponent, Sawyer Fulton his already in the ring. Colin and Fulton lock up early on, but Sawyer took control of the match and never let go as he kept Colin on the defense with his superior strength. Colin found a way to land a huge big boot to Fulton and led the crowd into a chant of "S-A-W-F-T" before landing a 7 Foot Elbow drop on Fulton for the win. Colin could not celebrate for long, before The Legionaries made their way down to the ring! Things were not looking good as the team surrounded him, by the theme music of his good friend, Enzo Amore as he makes his return and his way down to the ring! The Legionaries abandon ringside and Amore grabs a mic! Enzo introduced himself and stated he is a certified G and that you can't teach that! He poked fun at The Legionaries and ended it by calling them SAWFT!
Winner – Colin Cassady
Grade – B+, Colin's match with Sawyer did not earn this grade. The match itself was rather boring with Sawyer mostly dominated Cassady in the beginning and Colin only hitting two moves in the match. Colin did keep it excited, but what was most excited was the return of Enzo Amore! Amore joins the list of superstars who have returned and/or made their debut's here tonight on NXT! The NXT Tag Team Division was so small not to long ago, but now The Ascension's list of challengers grows as The Vaudevillians, The Legionnaires, Jason Jordan & Tye Dillinger and now Big Cass and Enzo Amore occupy the list!
Adrian Neville (c) vs. Rob Van Dam
Apparently Alex Riley has been kicked off the commentary table and the number one contender for the NXT Championship, Tyler Breeze will take his place. Both Neville and Van Dam came out to a great crowd response and they shook hands before the match begins. The commentary throughout the match between Renee Young and Tyler Breeze was hilarious, as she continued to ask Breeze questions that he had no interest in answering. I could honestly write whole review on it! but back to the match. Van Dan and Neville kept up with each other landing kicks and strikes. Neville gained the upper hand as he clotheslined Van Dam over the ropes onto the outside of the ring. Van Dam seemed to be gassed as he stayed outside the ring up until the 7 count. Right when he got back in the ring the two began to fight once again with Neville gaining control! The NXT Champ continued to control Van Dam until, RVD manged to get  Neville outside of the ring and use it to its advantage, but the soon back fired on RVD as Neville climbed to the rope and hit a moonsault on RVD onto the outside of the ring! Back from commercial break, Neville is once again in control over Van Dam, keeping him matted with a front face lock! Van Dam broke out of it and got back into control as he perched Neville onto the top rope and hit a flying kick right into his jaw. Van Dam followed up with many of his trademark moves hitting the spinning leg drop and of course The Rolling Thunder! The turnbuckle quickly became Van Dam's friend as he landed numerous spinning kicks to the jaw of Neville. Van Dam enjoyed this control over Neville as I continued to enjoy and get distracted by listening to the commentary by Renee Young and Tyler Breeze! Neville and Van Dam began to trade blows hitting each other with some serious kicks and following up with many quick maneuvers and countering each others moves! Van Dam gained control with a huge slam and went for a split legged moonsault, but Neville moved out of the way and began to fire and RVD with some stiff kicks. Neville followed up with a beautiful dropkick and covered Van Dam but only for a two. Neville continued to hit RVD with some heavy moves that only gave him the same result, a two count! RVD began to fight back in the match and Neville with a stiff kick to the jaw that knocked the NXT Champ out. RVD went to the top rope and leaped for the Five Star Frog Splash but Neville moved out of the way and RVD landed flat on his face. The NXT Champion followed up with a missile dropkick that sent RVD flying backwards and set him up for The Red Arrow for the win! RVD seemed shocked by the victory but still shook Neville's hand and rose his hand in victory giving the NXT Champion a load of respect. Tyler Breeze on the other hand is not impressed and said "Adrian Neville is the champion but he needs to prepare for the number on contender," and than he stood up on the announce table as he stared Neville down to end the show!
Winner – Adrian Neville (c)
Grade – A, This is a combination of both the match on the commentary. Neville showed off his A game tonight in this match against a man he looked up to. RVD took some heavy hit from Neville but he sure gave him a run for his money. It looked like Van Dam had the win when he went for the Five Star Frog Splash, but Neville avoided it and it his Red Arrow to upset Van Dam and score a huge victory over a legend in the WWE! Tyler Breeze on the other hand stole the show in my opinion! I found myself paying more attention to what Breeze was saying over the match. His commentary with Renee Yong was just brilliant. Young asked Tyler many questions and Tyler really did not care for what she had to say. These two work great together and I would love to see more of these two, maybe an actual interview! Great Match all around tonight!
Superstar of the Night – Adrian Neville!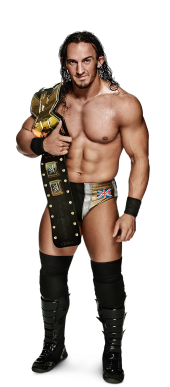 Once again the NXT Champion claims this prize. I debated giving it to Enzo Amore or Tyler Breeze, but when I really think about, Neville's victory over RVD means a lot more than you think! Despite how RVD has been booked as of late, he is a very accomplished superstar and a future WWE Hall of Famer! he is a former Intercontinental Champion, Tag Team Champion, ECW Champion and WWE Champion! and Adrian Neville beat him tonight. The NXT Champion his beginning to look unstoppable and Breeze seems to be all talk, but will he be ready for action. If you ask Renee Young, she would probably say not any time soon. Over all a great show tonight that saw the "debut" of Bull Dempsey and the debut of Becky Lynch along with the return of Enzo Amore and an great match between our NXT Champion and The Whole F'N Show! See you at Money in the Bank everybody!
If you have any suggestions for films/TV/Games/Music for me to review, drop me a comment! Remember: Like Media In Review @ https://www.facebook.com/MediaInReview?ref=hl Follow Media in Review @ https://twitter.com/Media_In_Review.
Feel free to check out my YouTube channel where I do Let's Plays!-http://www.youtube.com/user/OmgWtfLolFtwBrb