WWE NXT |6-5-14|Tyler Breeze's Music Video Debut!
Hello my friends and welcome to my review of June 5'ts edition of NXT Wrestling. Tonight we will see the aftermath of Take Over! Tyler Breeze debuts his music video to his new theme and the NXT World Champion is in action when Adrian Neville takes on Justin Gabriel!
Mojo Rawley vs. Aiden English
Before the match begins we had a video the highlighted what happened at Take Over and it was also announced that the Number One Contender for the NXT Championship, Tyler Breeze is now in the building. Mojo makes his way down to the ring and during his entrance we are shown a video where Mojo responds to the beat down he received from Rusev at Take Over. Mojo states "Just like America, when I get taken down! I pick myself right back up!" Out next is Aiden English who sings another song on hi way to the ring. During his song he mentions how Mojo failed America last week. The match up begins and Mojo takes control of the match early on, but Aiden with a reversal clothesline allows him to take control of the majority of this match. English kept Mojo down with headlock submission holds! Using moves like the neckbreaker assured Mojo would stay down! Aiden tossed him into the turnbuckle and ran at him, but Mojo got his feet up and Aiden ran right into them! Mojo took English down with a clothesline and began to hype himself up as he ran at English and hit him with his rear end and followed up with Hyper Drive to pick up the win!
Winner – Mojo Rawley
Grade|C| I'm going to try a new grading system! I feel my previous rating system didn't show my true feelings for the match, so I'm going to start using a basic school grading system from A+ to F-. This match really was nothing special. The heavy focus was on the beat down Mojo received from Rusev last week. Mojo is begging to show how long he can last in a match and can definitely be on the receiving end for a while, but we still haven't gotten to see much of Mojo's move set! WWE/NXT seems serious about pushing Mojo and a program with Rusev who is a big deal in NXT could do wonders for him!
Backstage Interview W/Natalya
Before the interview we see a video from last week showing just how much the defeat affected Tyson Kidd! Devin Taylor is backstage with Natalya and talks about both Natiie's and Tyson's matches and also comments on how upset Tyson looked! Nattie says everyone handles things their ways and says she couldn't be more proud of him and that she has his back!
Bayley vs. Charlotte (c) W/Sasha Banks
Bayley makes her way to the ring first to a great fan reaction! She high fived fans and gave out head bands! Out next is the new NXT Womens Champion, Charlotte with her BFF, The Boss Sasha Banks! The match begins and Charlotte takes the early control only for moments! Bayley reverses and manages to take the Womens Champ down! Bayley continues to control the champ and even break dancing on the back on the champ! Charlotte frustrated by the move began to wrestle more aggressive, hitting Bayley with some stiff kicks and even returning the favor and break dancing on Bayley's back! Charlotte continued to control the match locking in a Figure Four Headlock, wearing down Bayley! Regal comments on how important this match is for Bayley as she begins to get out of the move and turn this match into her favor! Bayley now fighting more aggressively takes it to the champ and even goes after Sasha on the outside of the ring! Bayley tried to get back in the ring, but the champ was right there and went to pull Bayley back in, but Bayley was not finished as she gave Charlotte and forearm and climbed to the top of the turnbuckle and hit a cross body! Charlotte kicked out of the pin and began to control Bayley again. Summer Rae's music plays over the loud speaker and The leader of The BFF's makes her way to the ring! Bayley looking to capitalize off the distraction rolls Charlotte up for a pin, but the Womens Champ quickly kicks out and dropkicks Bayley's leg and follows up with Bow to the Queen for the win!
Winner – Charlotte (c)
Grade|B-| After the match ended Summer Rae began to beat down on Bayley and Charlotte and Sasha followed up! The Divas Champ, Paige's music hits and Paige and Emma make their way down to the ring to scare of The BFF's and save Bayley! Charlotte after having a fantastic match last week, puts on a decent match with Bayley here, that saw some excitement when it appeared that Bayley would win! Summer Rae didn't exactly return to much fan fare but the surprise return from her up the grade as well! Paige and Emma racing to the rescue sets up for a possible six diva tag match in the future, but for not it seems both Sasha and Charlotte are confused with Summer's return and aren't really sure how to take it
Jason Jordan & Tye Dillinger Promo
Both stars are backstage. The promo wasn't much as the two took turns saying "Boom, Boom, Boom" and following up with "Let me here you say" and than they would say their name. Dillinger was made to look like the fool in this promo and honestly, I'm not to sure how I feel about these two yet.
The Ascension (c) Video Package.
A video is showcasing the dominance of the NXT Tag Team Champions, making a highlight of their victory of Take over when they easily defeated El Local and Kalisto.
Jason Jordan & Tye Dillinger vs. Stewart Cumberland & Philip Ghouljar 
Jordan and Dillinger make their way to the ring while their opponents are already out! The match begins with Jordan and Cumberland! Jordan took the early control of the match and kept frequent tags with Dillinger! The commentators mention many times about the chemistry between Dillinger and Jordan and we are seeing it here tonight as they keep control over their opponents. Cumberland did mange to tag in Ghouljar, and things began to turn around for them as Ghouljar began to take it to Dillinger with some nice elbow strikes and some old school brawling! Ghouljar tags in Cumberland who continues to take it to Dillinger. Ghouljar gets the tag and comes back in, but Tye managed to get away and make the tag to Jordan who took Phil down with a shoulder tackle and rushed at Ghouljar who was in the turnbuckle now to hit him with another shoulder thrust! Tye makes the save for his partner, landing a superkick on Cumberland who was looking to attack Jordan. Jordan hits The Jordan (Angle) Slam  covers Ghouljar for the three.
Winners – Jason Jordan & Tye Dillinger
Grade |B| Jordan and Dillinger sure look good in the ring, their is no doubt about that! At one point in the match Dillinger received a "Charlie Haas" chant and I can sure see the resemble between Jordan/Dillinger & Benjamin/Haas! Hell Jordan even uses Kurt Angle's Angle Slam finishing move! It seems these two are next in line for a shot at The Ascension since The Commentators brought it up quite a lot during the match, so I expect to see them a lot more so they can build up more wins!
Beautiful Fierce Females (BFFs) Segment
Summer Rae is backstage talking about her return! Charlotte and Sasha say their happy but don't look to happy. Charlotte points out that Summer interrupted her match, and Summer expressed how she felt that they would be more excited since she has been on TV, Total Divas and Hollywood and expresses how she is putting The BFFs on the map. Summer notices the sign and tells the girls they won't need it anymore since she is back. As Summer leaves Charlotte says under her breath to Banks "That's what she thinks." It seems Charlotte and Sasha Banks aren't as Summer Rae is about her return. I feel like a clash between Summer Rae and Charlotte over the Womens Championship is coming up pretty soon!
Tyler Breeze's Music Video Debut!
The Number One Contender for the NXT Championship, Tyler Breeze makes his way to the ring out to his new theme music, sung by himself! Breeze grabs the mic once he finishes his entrance and talks about how he Took Over at NXT: Take Over! Stating that he defeated Sami Zayn who he called Seth Rogan's Younger Uglier Brother. The crowd begins to interrupt Breeze as the chant "Ole!" Breeze continues with what he was saying, stating that he is now in line for the NXT Championship and states the title should only be worn by someone gorgeous! Breeze states that he has a title shot at any time he wants and is going to leave Neville standing on his heels! Breeze expresses that tonight is an important tonight and begins his music video! The video starts off by with a title scree that says "Dedicated to all my fans…even the Uggos – Love Tyler" This was actually a very well done music video for Tyler Breeze's new theme! This really plays up to his character and each week he keeps reminding me of a modern age Shawn Micheals! After the video ends! Tyler is speechless and the fans chant "This Is Awesome!"
Bo Dallas Video Package
A Video Package is shown of Bo Dallas highlighting his time in NXT and his match the eventually led to him having to leave NXT against Big E! This video showed just how much Bo grew on NXT and really showed how great and funny his character can be when we saw the argument between Bo and the fans on his last day there.
Justin Gabriel vs. Adrian Neville (c)
It is now time for our main event of the night! First out is Justin Gabriel and The Champion, Adrian Neville soon followed. Just like Tyson Kidd, Justin Gabriel is very similar to Neville's style of wrestling and we saw that tonight between these two. Both men at several points in this match took control only for brief moments as the other found a way to counter. Gabriel fired at the NXT Champion with stiff kicks, forearms and a whole arsenal of high flying maneuvers. He countered the champion many times with well timed drop kicks! The Champion took a lot of the beating from Gabriel bud he hung in there and delivered his own arsenal of moves! Towards the end of the match Gabriel looked to finish The Champion off and climbed to the top turnbuckle and looked to hit the 450 Splash. Neville manged to move out of the way and Gabriel landed on his feet but turned around to a super kick from the champion. Neville than climbed to the top and hit his Red Arrow for the win!
Winner – Adrian Neville (c)
Grade |B+| Gabriel went out there and match Neville. If these two were given the time to compete as long as Tyson and Neville did I'm sure they could put on a A+ match! The Champion continues to look good, defeating every superstar the has challenged him from the WWE Main Roster. After Neville's match Tyson Kidd's music played and Kidd made his way to the ring. Kidd apologizes for his actions after their match last week and states that he is embarrassed that he did not shake his hand! Kidd states that it is a fact that Neville beat him, but he also says its a fact that he will beat Neville in their next encounter. Kidd ask Neville for one more shot at the title. Neville grabs the mic and accepts the match! The two have a bit of an awkward stare down to end the show.
Superstar of the Night – Adrian Neville (c)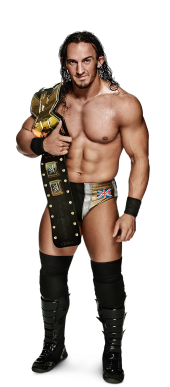 Deciding tonight's superstar of the night was a bit difficult! Summer Rae made her return to NXT and it would appear to immediately put her next in line for a Womens Championship match. Tyler Breeze had an amazing segment that reminds me of a modern day Shawn Micheals in his Sexy Boy gimmick. Tyson Kidd is getting another shot at the NXT title, but none of those stars really did anything tonight! Neville had a damn good match against a tough opponent in Justin Gabriel and lived up to his promise of being a fighting champion by accepting Kidd's challenge. Neville has been impressive as of late, and tonight was no different!
If you have any suggestions for films/TV/Games/Music for me to review, drop me a comment! Remember: Like Media In Review @ https://www.facebook.com/MediaInReview?ref=hl Follow Media in Review @ https://twitter.com/Media_In_Review.
Feel free to check out my YouTube channel where I do Let's Plays!-http://www.youtube.com/user/OmgWtfLolFtwBrb