23+ Years Later, Stephen King's Storm of the Century Still Packs a Punch. SPOILER-FREE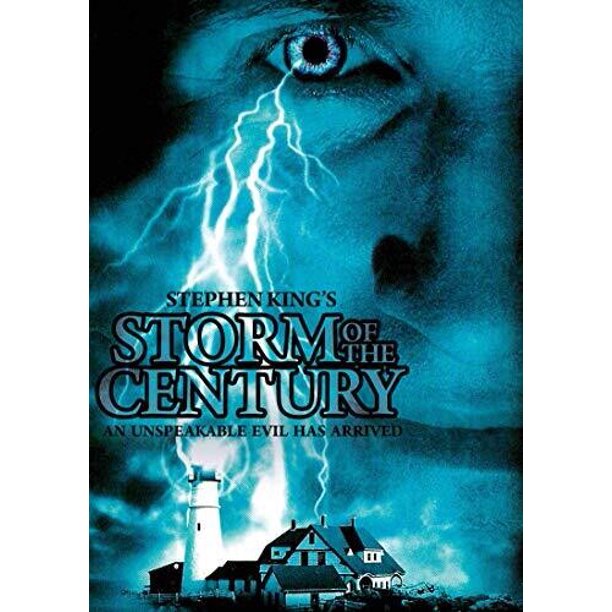 Title: Storm of the Century
Release: February, 1999
Director: Craig R. Baxley
Writer(s): Stephen King
Starring: Colm Feore, Tim Daly, Debrah Farentino, Peter MacNeill
*Author's note: This article does not contain any spoilers! SPOILER-FREE REVIEW!
Storm of the Century is streaming right now on Hulu! (2022)
Stephen King is known for many things, most notably as a prolific horror novelist. With over 60 published novels and almost 20 screenplays, King has conquered both mediums the likes of which few, if any, other authors have. He's also known for greenlighting seemingly any and every novel, short story, concept, etc to any studio with a checkbook. Many of his adaptations fall well below what many would consider a "good" movie/show. The fault of a poor movie or show should likely fall on the producers or directors, not on the author of the source material. Yet oddly, the name Stephen King is just as synonymous with mediocrity (see Thinner, Maximum Overdrive, Riding the Bullet, etc) as it is with critical acclaim (see Shining, Carrie, It, Misery, etc). So, as you scrolled through Hulu's new movies, and you stumbled upon Storm of the Century, you are 100% justified in questioning whether this miniseries is worth your time. Fret not, Modern Neon enthusiast, as I'm here to tell you that the next four and a half hours of your life are about to be filled with excitement and intrigue.
BLIZZARDS AND DEMONS
Storm of the Century follows a small group of town-folk as they contend with a historic blizzard battering their little island. Based in the town of Little Tall Island off the coast of Maine, this small fishing village is known for its quaintness, sense of community, and wholesome values. As the residents prepare for a storm the likes of which they've never seen, a strange man appears on the island and murders an innocent old lady. The news quickly spreads across the town, sending a shockwave of disbelief, bewilderment, and intrigue. Who is this man? Is he an islander? Where did he come from? Why did he kill little old Martha Clarendon?
The murderer is captured and imprisoned, and we discover his name is Andre Linoge. There's clearly something off about this man as he willingly awaited the police, sitting in Old Mrs. Clarendon's chair. As the blizzard intensifies, the residents make their way to the town hall which is fortified with a diesel-powered generator, a basement full of cots, and plenty of food to survive a long stretch. Although everyone is bunked up together under one roof, a series of mysterious deaths ensue, from a hanging, to a bludgeoning, and more. The residents are shocked and terrified. All throughout, the incarcerated Linoge has stated "Give me what I want and I'll go away." Yet he's seemingly not ready to tell everyone what he wants. The blizzard continues to rage on as the residents grow increasingly more wrought with fear. What does Linoge want and will we be able to give it to him? Who is responsible for these murders and how did it happen if Linoge is locked up? Questions abound as the storm of the century batters their town while Andre Linoge batters their wits and their resolve.
MUST-SEE TELEVISION
When viewing this movie today, Storm of the Century comes off as yet another 1990s story-turned-TV-show. But in February of 1999, upon this mini-series' release on ABC, viewers were treated with something special. The concept of a "TV Miniseries Event" just doesn't exist anymore, but you have to remember that in February of 1999, TiVo was still a few months away, streaming had yet to come into existence, and if someone wanted to watch something on TV, they had to plan their evening around when it would air. The cable-led Hallmark channel and Lifetime Channel were famous for their made-for-TV-movies, but broadcast television didn't receive as many of these miniseries events. And as someone who witnessed and watched Storm of the Century at the time of its first-time airing, I can say definitively, the excitement was palpable.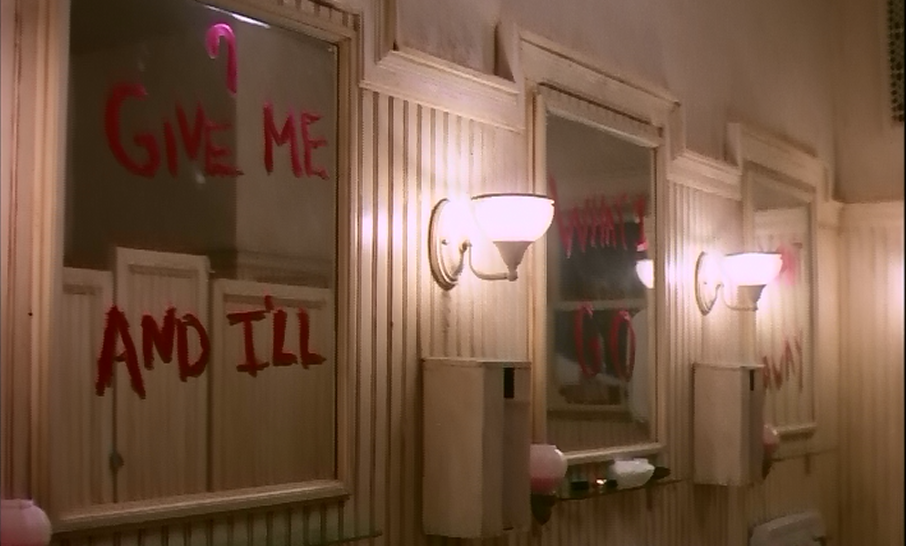 Marketed as the miniseries event of the century, and spreading across three 2-hour nights, viewers were graced with the best programming that broadcast television could deliver. The ads leading up to the broadcast were sleek and dripping with mystery and excitement. This was FOMO before FOMO existed. It was February of 1999, so it's cold and snowy across much of the country and the century would be coming to an end soon. The timing was perfect, and viewers were in for an exciting event.
STORY + DELIVERY = THRILLS THAT KILL
Throughout the entirety of Storm of the Century, there are numerous themes and repetitious moments to drive home the story's purpose and continue building suspense. This is the benefit of having the screenplay written by Stephen King. And it should be noted that this story was written directly for the screen and not adapted from any of King's other novels or short stories. King has gone on record to say that this is his favorite TV production based on his work.
This miniseries not only packs a quality story within its 4+ hour runtime, it also delivers the goods of entertainment through perfect pacing, quality acting, and top-notch special effects and sound. Seriously, for a made-for-TV-movie, the special effects and directing are astounding. The sense of the storm's magnitude, white-out visuals, wind-blown effects, and blistering sound create the perfect claustrophobic stormed-in / snowed-in setting for a supernatural murderous story. While some of the dialogue may feel a little Daytime Soapy, overall Storm of the Century's cast deliver pretty great performances.
I felt the top-billed case were especially well above average with Colm Feore (Andre Linoge) stealing the spotlight with his oddly calm demeanor and creepy grin. Wait… Can you "steal the spotlight" if you are the lead character? Hm. But you get my point. Colm Feore is excellent. Tim Daly (of Wings fame) plays the lead character as Constable Mike Anderson. Mike and his wife Molly (played by Debrah Farentino of Eureka fame) make a credible husband and wife duo. But perhaps my favorite of the top-billed assistant actors is Casey Siemaszko who plays Hatch, the Constable's trusted right-hand assistant. His performance is absolutely spot-on as he flexes his emotional acting muscles and provides the show's most believable coastal Maine accent.
CONCLUSION
Nominated for two Primetime Emmy's, and winning one, Storm of the Century is far and away one of Hulu's best hidden gems. Although the show's runtime is an astounding 4.5 hours long, viewers will find themselves glued to the edges of their seats with anticipation of what's the come next. Will Andre Linoge escape and kill more people? What does he want with this little island? Why did he choose them? Writer Stephen King and director Craig R. Baxley provide a blizzard of excitement and mystery worthy of any fan of horror and suspense. The story is compelling, the pacing is perfect, the acting is great, the special effects are top-notch, and the combination and delivery of everything mentioned above equates to what I call "Great Television."
Fortunately for you, you don't have to record this across 3 VHS tapes as you can simply stream it with your Hulu subscription. Things to note while you watch:
Really take in the acting of Becky Ann Baker who delivers a sneakily fun performance.
Fall in love with the exterior shots of the snowstorm and waves battering the lighthouse.
Let claustrophobia envelope you for a sense of "being there."
Enjoy Colm Feore's scary facial expressions and creepy demeanor. It's just so damn good.
I hope you enjoy the miniseries event! Storm of the Century should surprise you with good fun as your skin crawls anticipating Linoge's final moment answering the frequently delivered line, "Give me what I want and I'll go away." Just what exactly does he want?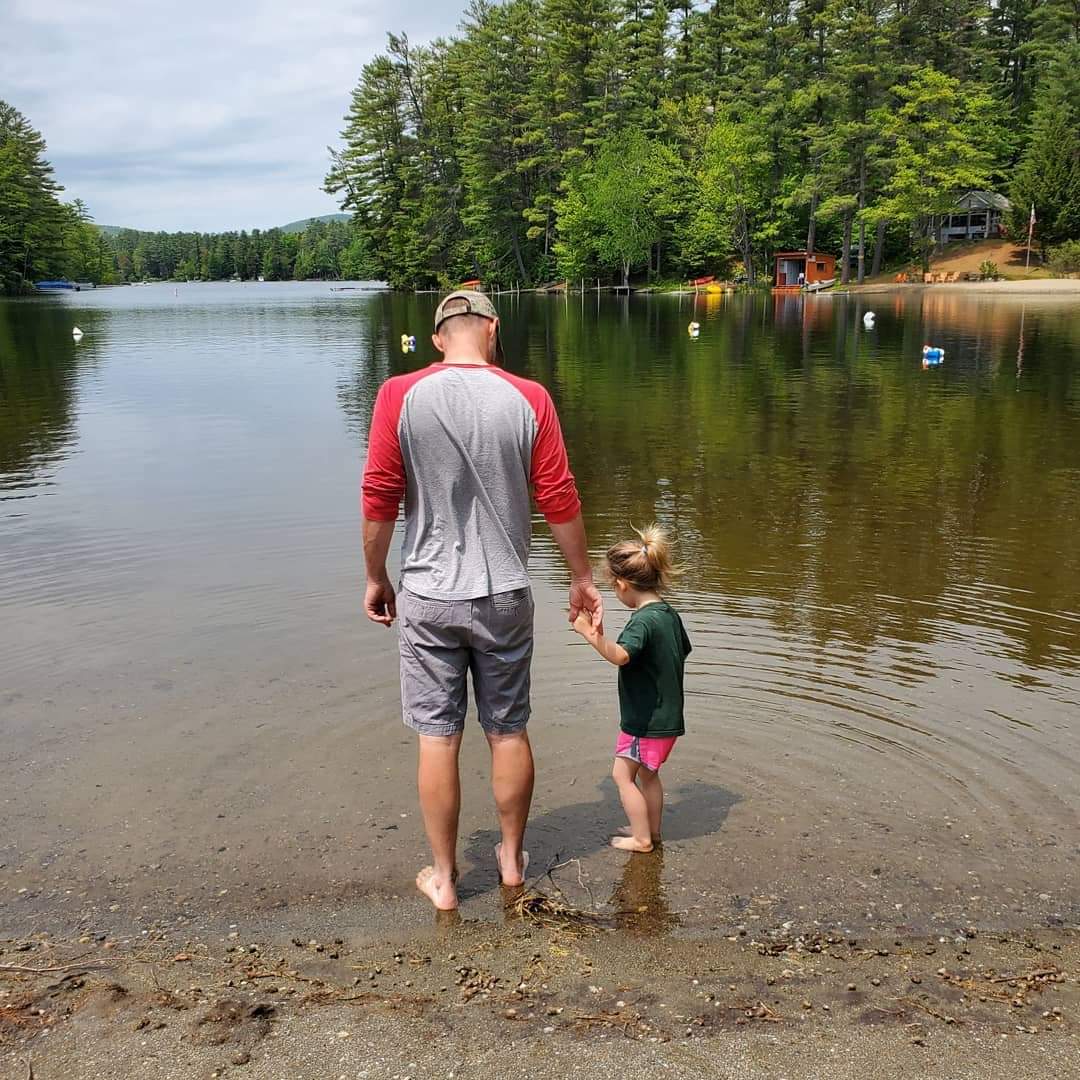 David "Nerdberry" is the proud founder and owner of Nerdbacon.com, a video game reviews and news website. Nerdberry owns a local pressure washing business in North Carolina, has a family, and a little house. With a college background in film and a personal love for dissecting movies, he feels aptly suited for Modern-Neon. The jury is still out on whether or not Modern-Neon wants him. We'll see. But he is excited to be part of the team here in an effort to help it grow!